NexGen (Next Generation Inert Gas Purification)
• Innovative, Patent Pending inert gas purifier design uses replaceable cartridges
• Cartridges are supplied fully activated and ready for immediate use
• Typical cartridge life greater than 1 year
• No more purifier regeneration by the user
• No downtime
• Independent oxygen and moisture purifiers with Individually selectable manual or automatic blower speed controls
• Less than 1 ppm oxygen and moisture
• System comes complete with:
- Stainless steel glovebox
- LED lighting
- Three large high capacity shelves
- Vacuum pump
- Your choice of gloves
- Evacuate/ refill internal glove port cover
- Smart purifier features (requires VAC analyzer)
- Smart purge features (requires VAC analyzer)
• Rectangular antechamber design with with manual valves and horizontally swinging doors allows large pass through capability with greatly reduced volume and pump down time (vs. 15" dia. cylindrical antechamber)
• Automatic features available upon request
• New 7" high resolution touch screen displays glovebox and antechamber status, oxygen and moisture levels and purifier blower speeds on the main screen Integrated oxygen and moisture analyzers are Optional
• Extensive list of options and accessories

Technical Bulletin
The Omni-Lab
The OMNI-LAB provides a complete glovebox system with integrated purifier, controls, display and stand. It provides Universities and commercial firms a cost-effective solution with full inert atmosphere performance and a user friendly control system.

VAC designed the OMNI-LAB with simplicity in mind for decades of trouble free performance and low cost of ownership. The manual isolation, antechamber, and purge valves provide easy one hand reliable operation. The PLC tests the system so that incorrect valve positions do not damage the system.

Available in one or two workstation single sided models (see VAC 102282 for two workstations).

Technical Bulletin
Nexus II
The NEXUS II Integrated Glovebox System provides universities, industrial firms and the national laboratories with a full feature system and a new standard in glovebox performance and features. The NEXUS II Integrated glovebox system comes complete with vacuum pump, gloves, shelving, and purge valves - just plug in the utilities and you are ready to start.


The VAC integrated inert gas purifier has a very thin 16" depth and compactly fits entirely under the glovebox at the rear to allow more leg room (14") for more space for under glovebox storage or equipment.
This allows the NEXUS II Integrated to be the ideal platform for custom integrations of cold wells, spin coaters, special heating wells and other equipment for your special projects.
The depth of the NEXUS II Integrated glovebox is 30" and VAC designed the system so it may be flush mounted against a laboratory wall. Choosing the NEXUS II Integrated means your precious laboratory space is preserved.


The purifier is available in both single and dual column model; both with automatic circulation valves and manual glovebox isolation valves. Choose a dual column model to allow simultaneous purification and regeneration. As with all VAC inert gas purifiers, the NEXUS IIIntegrated will achieve less than 1-ppm oxygen and moisture equilibrium.


A new 5.7" color touch screen control and display panel is standard and a 10.4" is optional. Both choices mean fast and easy access to your glovebox settings. The system will also control antechamber evacuation/refill, glovebox pressure and glovebox purge.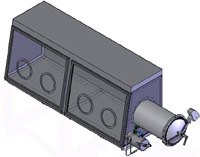 The glovebox comes in single, extra (3 port) and double (4 port) lengths, single sided or dual sided. The glovebox is stainless steel with removable end panels. The large 15" diameter and small 6" diameter antechambers and doors are stainless steel.

Technical Bulletin
Genesis
• Stainless steel glove box with stand
• Led lighting
• Stainless Steel rectangular ante chamber
• Simple user friendly pressure control with low voltage foot switch
• 3 adjustable Shelves

• Vacuum pump
• Gloves
• Manual Purge valve
• No user regeneration required
• No down time
• No regeneration gas needed
• No more purifier service required
• Minimizes hazardous waste removal costs
• No more regeneration solenoids, or controls to wear out

• The Genesis purifier cartridges are supplied fully activated ready for immediate use
• Ask about our cartridge exchange program for further costs savings
• Add Genesis moisture, or Oxygen analyzers
• Add hermetically sealed feedthrus specific to your application

• Smaller foot print minimizes space taken up in the lab, allows for easy dock to lab transfer, minimizes elevator concerns and reduces shipping costs
• Enjoy lower cost of ownership
• Simple user friendly design reduces training time for new users
• Genesis uses 50% less power than traditional Glovebox systems

Technical Bulletin
Accessories
:: For Glovebox Omni-Lab :

• Glove Options
Gloves, Butyl Rubber, Ambidextrous 0.030" P/N VAC 2682
Gloves, Butyl Rubber, L & R, 0.030" P/N VAC 2682-2
Gloves, Butyl Rubber, Ambidextrous 0.015" P/N VAC 2681
Gloves, Butyl Rubber, L & R, 0.015" P/N VAC 2681-2
Special gloves quoted upon request

• Vacuum Pump Options
Vacuum Pump Assy, 4.1 CFM (7.0 m3/h) VAC 100617 Included in STD System Price
Vacuum Pump Assy, 6.9 CFM (11.7 m3/h) VAC 100618 See quote for price
Vacuum Pump Assy, 10 CFM (17.0 m3/h) VAC 100619 See quote for price
Vacuum Pump Assy, Dry Scroll, 8.8 CFM (250l/m) VAC 400006 See quote for price
No Vacuum Pump N/A See quote for credit
Edwards pumps include EMF10 outlet mist filter and gravity oil return kit

• Analyzer Assy, Oxygen: with LCD display, calibration system and electrolytic fuel cell. Monitors and displays the glovebox levels from 1 PPM to 21.8% oxygen.
P/N VAC 102237
P/N VAC 102238 (with alarm)

• Analyzer Assy, Moisture: with Aluminum oxide probe and NIST traceable calibration. Monitors and displays the glovebox levels to 1-ppm moisture (-80C dew point).
P/N VAC 102239
P/N VAC 102240 (with alarm)

• Antechamber, Mini: 6 dia. X 12 long (152 X 305 mm), stainless steel, welded to right panel.
P/N VAC 101976

• Cold Storage Assy: Refrigerator, to -35C. Mounted to glovebox on left end panel and provides immediate access from the inside of the glovebox. Separate condensing unit installed on a stand. Includes extension module to mount refrigerator outside of glove box for increased space savings.
P/N VAC 100595

• Cold Well: Stainless steel well, 6 1/2" I.D. by 7 1/2 " deep (165 X 190mm). DEWAR is filled with LN2 coolant for low temperature work in glovebox.
P/N VAC 019333

• Glove Port Cover: Installs over each glove to secure glovebox during tests. Either internal or external models. One internal glove port provided with each OMNI-LAB.
P/N VAC 019281 (Ext. LEXAN) P/N VAC 019282 (Internal)

• Interface Assy, BNC: Feed thru electrically connects instruments into a glovebox with BNC connector.
P/N VAC 100627

• Interface Assy, 25-Pin D, Data or RJ-45: Electrically connects instruments into a glovebox.
P/N VAC 100592, RJ-45
P/N VAC 100593, 25 Pin, D


:: For Glovebox Nexus : Nexus Accessories List